Today it was announced that St. Louis has been awarded an expansion franchise to begin play in 2015 of the fast growing men's soccer league USL Pro. From what I've gathered this adds fuel to the fire that the Seattle Sounders of Major League Soccer will be forming their own USL Pro team for the 2015 season.
My curiosity was provoked when I heard that Boise was mentioned as a potential city for the home of this new Sounders-affiliated USL Pro team. According to Sounders GM and part owner Adrian Hanauer, the list of cities being looked at include Bellingham, Everett, Spokane, and Boise. Then, on a fan poll at SounderAtHeart.com, the question was asked "Where would you like the Sounders to put a USL Pro team?" At the time of this writing, Boise is the overwhelming favorite, with 72% of the 1860 votes.
Some questions:
Where would they play?
This news could finally spur some movement on the new Boise Hawks Stadium, which has always been planned as a multi-purpose facility capable of hosting professional soccer and High School Football. There's been little news or updates on this proposal since it was unveiled in 2011, which has me thinking they're having trouble raising the funds.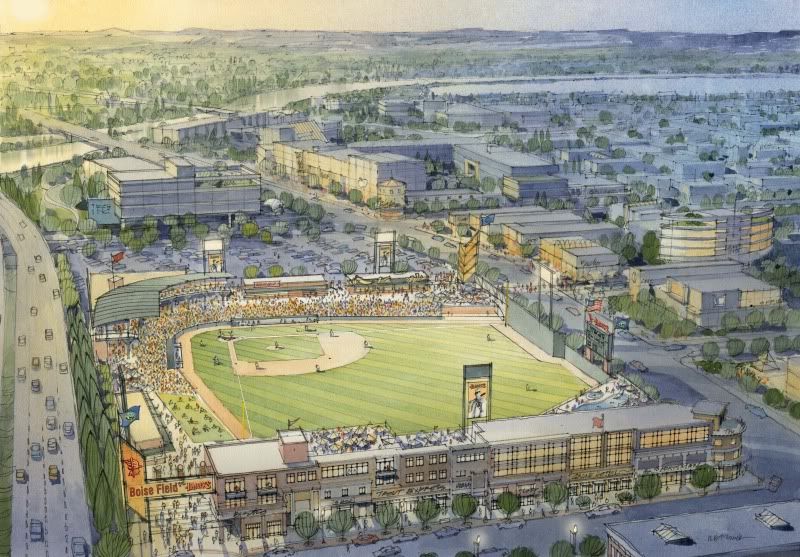 There's no official word, but I've heard talk from multiple people that a competing proposal is being put together to build the new ballpark out in Meridian which would move the Hawks westward. Perhaps this new USL Pro team would join them.
Kind of reminds me of the Atlanta Braves moving out to Cobb County.
But let's have fun with it. Let's say we get a new stadium, a new USL Pro team…
What would it be called? What would our mascot be? Our colors?
I'm a designer by trade so this is my favorite part of sports. Ideally we'd steer clear of generic, meaningless names and infuse this team with a true local spirit. Let's give this team a name that wouldn't make sense in other places. Like… the Idaho Sawtooths, or the Boise Bluebirds… I don't know, just throwing it out there. I'd love to hear your ideas!
– –
Here's a list of current teams playing in the USL Pro, and the metropolitan area they represent:
Arizona United (Phoenix/Peoria, AZ)
Charleston Battery (Charleston, SC)
Charlotte Eagles (Charlotte, NC)
Dayton Dutch Lions (Dayton, OH)
Harrisburg City Islanders (Harrisburg, PA)
LA Galaxy II (Los Angeles, CA)
Oklahoma City Energy (Oklahoma City, OK)
Orange County Blues (Irvine, CA)
Pittsburgh Riverhounds (Pittsburgh, PA)
Richmond Kickers (Richmond, VA)
Rochester Rhinos (Rochester, NY)
Sacramento Republic (Sacramento, CA)
Wilmington Hammerheads (Wilmington, NC)
That'd be a pretty fun cadre of cities to play against.